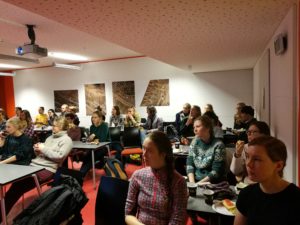 unisBREAKFAST is a part of bioCEED, the Centre for Excellence in Biology Education. bioCEED is working towards improving and developing the education within biology at the university level by linking theoretical knowledge, society relevance and disciplinary and transferable skills together. The breakfast is an initiative part of this goal, to improve the learning environment and create an arena for exchange of educational choices and experience within the biology education.
The breakfast is arranged by the student representatives in bioCEED studying biology at bachelor level at UNIS and is a student-led project. It started up in spring 2017 and has been run since then with two breakfast seminars twice each semester. unisBREAKFAST was initially arranged for the biology students (and was called bioBREAKFAST at this time). In 2018 it opened up for all students at the four scientific departments at UNIS and later got renamed unisBREAKFAST.
This semester, Daniela Walch and Christina Hess are in charge of the unisBREAKFAST.